A Guide to Networking in the Cannabis Industry
I was recently at an industry event when another business owner approached me. He described what he did, how he saw a potential partnership forming between us, and handed me his card. But- little did he know- he had already completely ruined any chance of working together.

Why? Because I had met the same guy nearly a year before. Only that time, it was me that was trying to speak with him about a partnership.
He snubbed me. Literally acted like I wasn't even standing there. And here we were, one year later, with the tables turned.
While I wasn't going to act as rude as he had previously, that bad first impression was too much for me to ever want a business relationship with this guy! You bet there wasn't any chance of referring my customers to him either.
Unfortunately this type of situation in business is all too common, but it's SO EASY to avoid!
Don't spoil your chances of having good relationships with other cannabis entrepreneurs. Instead, follow these easy guidelines and make the best possible impression all the time:
Networking Rule #1: Don't Be A Jerk
No matter how awesome, large, or successful your business might be, it's not worth getting a huge ego over.
Even if the person approaching you is just starting out. Even if their company or idea totally sucks, BE NICE TO EVERYONE.
If you don't, it'll put a terrible taste in their mouths about your company.
Consider every single opportunity that presents itself. Really consider them, don't just pretend to. A terrible pitch could become a great strategy with the right tweaks, and- who knows- it might even turn into the best decision your business ever made!
Networking Rule #2: Offer Valuable Information
If you give it some thought and come to the conclusion you're not interested, don't just tell them "no thanks." It feels like you're blowing them off.
Instead, offer real reasons that their proposal isn't desirable to you, such as "It doesn't align with my business strategy" or "I see myself losing too much money on that deal". That way they'll know you listened, and you'll have given them a better chance at finding the right fit next time.
If the issue is with something they're trying to do, then be willing to provide suggestions that can help them out. We were all starting out at one point or another, and wouldn't things have been much more difficult without the experts making good, useful information available?
Giving valuable feedback won't only prevent you from becoming the jerk in that situation, but your advice might be exactly what they needed to hear for their idea to really come together. Then you're the hero that helped them achieve their dream, and the door won't be closed if they can offer you a valuable opportunity later on.
The Flip-Side: Don't Rush to the Finish Line
No one wants to hear a sales pitch in a networking environment. So if you're going to events looking to pick up a partnership, you're making a big mistake.
Most of these events are intended for meeting people and NOT making business decisions. Cannabis professionals probably already understand what your business does, so you're one step ahead anyway. Unless they ask about it, trying to sell them right then and there is a waste of your time.
Focus on who you are, more than what your business does, during your initial contact. Share your knowledge with others and be a professional worth keeping in touch with; either through your personality, your passion, or your experience.
If you do see an opportunity to develop a working business relationship, ask if you can send them some information at a later time. That will at least open them up to the idea of working with you, but avoid cornering them into a full-fledged pitch when they weren't ready to hear it.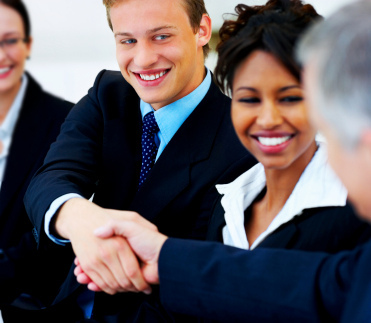 Networking Rule #3: Make Friends, Not Business Contacts
When it comes to building business relationships, it's important to remember this one thing: People do business with people.
Luckily, there are a LOT of people in the cannabis industry. So you don't need to force amazing relationships with all of them.
Instead, look to grow relationships with like-minded people and companies. It'll keep you from getting overwhelmed by the vast number of contacts you make, while also making for much more easeful partnerships down the road.
Networking Rule #4: Play Fair & Be Helpful
No one wants to feel used. And in the world of business, being selfish and/or ripping someone else off is one of the fastest ways to earn a bad reputation.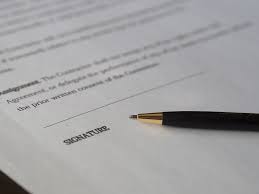 But when it comes to negotiating business agreements, there isn't always a win-win guarantee. Understand that you'll probably have to lose money in the short-run to gain a much better return in the long-run.
It's okay not to get a huge win right out of the gate. As long as you're making reasonable decisions, it will pay off over time (And sometimes really quickly).
A good example is from a couple years back, when KindTyme was still young. We were approached by another small- yet more established- business about a trade. Our team would redesign their brand and website; in return, they gave us a little cash and their word to send others our way.
It was a risky deal, but something told us that this group was reliable. Most importantly, we could see the potential for them to really take off: they just needed the right materials.
Well, we were right! And today they're one of our best business partners.
So although we lost several thousand dollars at the time, we had a really great portfolio item to show potential clients. Between their referrals and the interest the project generated on its own, that loss was recovered in no time!
Networking Rule #5: Be Social
More than any other industry, the business of cannabis is built on a strong community of friendly, helpful people. There are so many ways that you can meet more of them, but here are a few-
Attending industry events:
Joining a trade association:
Being active on social platforms (I highly suggest):
LinkedIn

Instagram

Twitter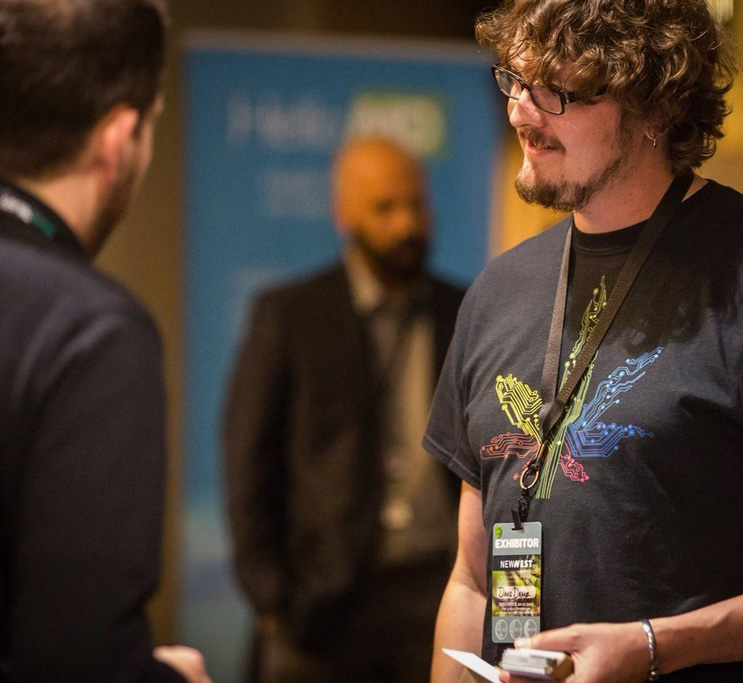 Entrepreneurs and industry workers gather at the New West Summit to discuss cannabis tech and media.
Don't burn yourself out by taking on too many at once, though! I recommend starting with a couple at first, and working up to more as time goes on.
And no matter how you meet new business contacts, DON'T FORGET TO FOLLOW UP! A short email or hand-written letter will go a long way in helping people remember you.
Applying the Rules
Business networking can be daunting when you start. But if you apply these rules, I bet you'll come to find that it's actually pretty easy!
People will be so much more receptive when you are happy, knowledgeable, and active in the community. It'll be easier to form relationships, and those relationships will have a much better chance of offering great opportunities for your business.
Now get out there and make a good impression!
Hosting a cannabis party, expo, or gathering in the near future? Read our tips on planning a successful event!