33 Cannabis Logo Designs Shaping the Industry
Take a look around the modern marijuana industry, and it's not hard to see that we're past the age of pot leaves and smoke art. The standards for industry branding are moving toward more polished designs and creative strategies, a shift that has brought some very impressive cannabis logo designs into the market!


Which ones are our favorites? We picked 33 cannabis logos based on symbolism, strategy, design, and emotional response; read what we have to say below:
NOTE: these examples are in no particular order, nor are we claiming them to be "the best". However, they were hand-picked by our team, which means we think they're quality designs that do a great job showing the directions that any logo design could take!
Designs that directly represent the cannabis brand name and/or product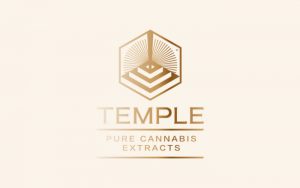 The California-based Temple Extracts uses a design of a temple as their logo. It's an obvious choice for the name, but a very unique subject to look at. What makes this design really stand out is its excellent use of shapes and lines that create balance, while still attracting the eye to multiple places within the logo.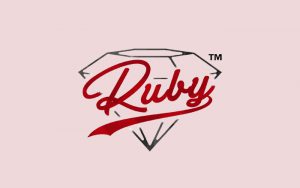 Ruby, the cannabis-infused sugar and edible company from Seattle, uses a jewel icon along with their name wordmark in one, single logo design. This literal approach, combined with the bold coloring and stark contrast from other cannabis edible logos, is what makes this design effective.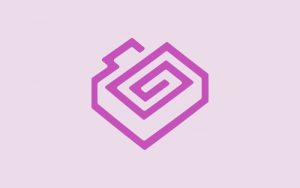 Lunchbox Alchemy's logo isn't what you expect at first glance. The swirling, square-shaped pattern is very reminiscent of the gummies and edibles they offer, until your eyes meet the outside of the square and you see the full logo design for what it is: a lunchbox. It's bold, playful, and simply unforgettable!
Compared to many other cannabis logos in Colorado, Stashbox's logo design is fairly simple. Take the first letter of their name and put it in a box, right? Except there's one thing that disrupts both: the diagonal line. Why is it there? Why does it cut off the S? We may never know, but it's this one little focal point that really pulls the whole design together.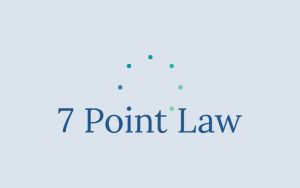 The 7 Point Law logo draws a partial circle within the brand name, pulling your attention to all seven points above the cannabis law firm's logo wordmark. Since the name's inspiration came from the iconic marijuana leaf symbol, the blank space within the circle suggest the potential to connect the dots.
Pax, the vapor company based in San Francisco, CA, opted for a simple, clean logo. But there's something that makes it perfectly fitting for the brand, and that's the design's relation to the product. The "X" in the wordmark is the same shape of the light in ALL of it's vaporizer designs, making the logo design one that is highly memorable because of what it means to its customers!
Logo designs inspired by the marijuana plant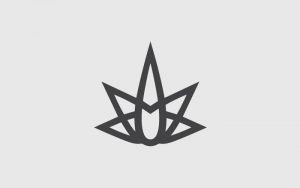 We don't usually recommend choosing a cannabis leaf logo design for your business, but we agree that there are exceptions to every rule! One of these is Evolvd, which uses a simple geometric design that's careful not to over-emphasize the leaf shape, while still helping this Oregon concentrate company's logo to stand out.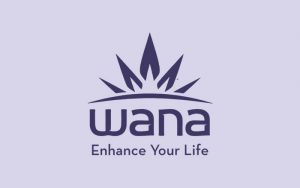 The Wana edible logo offers a very optimistic and nature-centric style, seeming to fuse the symbolism of the leaf, a sunrise, and a lotus flower into one design. Without already knowing that Wana offers marijuana-infused goods, it's unlikely that anyone would even notice the leaf inspiration!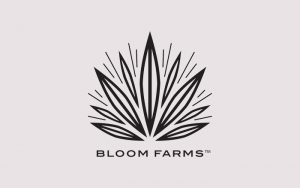 Many cannabis farm logo designs feature the marijuana leaf, but Bloom Farms has one of the best designed leaf logos by far! The positioning of large and smaller leaves makes this entire design look like light illuminations, creating a very vibrant feel when used with such a subtle color palette.
Name-Based Cannabis Logo Designs
Wordmarks and letter arrangements that stylize the brand name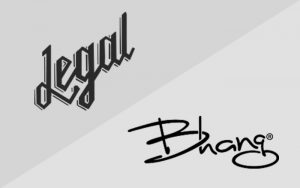 Legal uses a custom wordmark that is heavily influenced by the prohibitionist era. One glance at that lettering, and you feel like you're right in the middle of the 1920s! Likewise, Bhang Chocolates brings customers straight to the center of a modern, artistic city with it's one-of-a-kind wordmark logo design.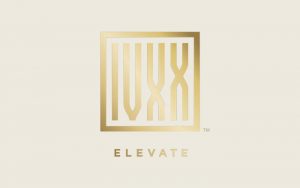 The logo for IVXX, a flower and concentrate company in California, is literally its brand name inside a box. So what makes it successful? The fact that it's so simple! The logo design doesn't distract from the business name, yet still acts as a complete visual statement.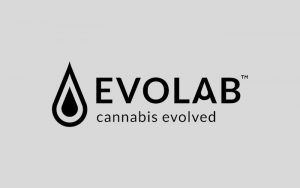 Liquid droplets are quickly becoming a top choice of cannabis logo designs for concentrate companies. But what makes Colorado's Evolab different isn't their use of a drop design as their main logo, but their use of an identical shape in the center of the "A" in the wordmark. Even the littlest details like this make a big difference in others' minds!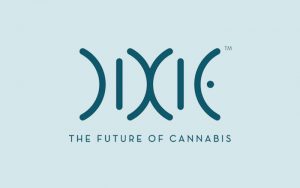 Dixie's logo design is a strong example of how to approach a brand name in the most creative way possible. By building on the letters' natural shapes and finding new ways that they compliment each other, Dixie has a wordmark that is strong, playful, memorable, and difficult (if not impossible) to copy. Dixie definitely has one of our favorite cannabis logo designs on the market!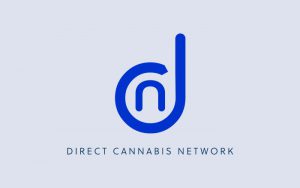 Direct Cannabis Network, Southern California's leading source for marijuana industry news, has a logo design that is all their own. The smooth combination of their main letters- d, c and n- creates a unique shape, while the subtle detail of the arrow gives the illusion of a "journey" similar to that of the cannabis entrepreneurs they aim to help.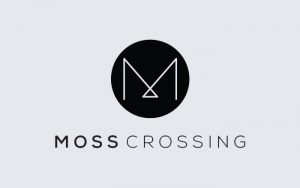 Only a few cannabis dispensary logos have made this list, but Moss Crossings is one that sticks on our team members' minds for a couple reasons. Firstly, because it's very simple, symmetric, and visually interesting. Secondly, because it's a direct fusion of the brand's first letter M, and the literal "crossing" of the lines within it. It's easy to remember and makes perfect sense!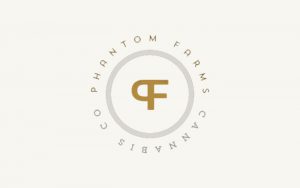 Acronym logos are a great choice for any multi-word name. But Phantom Farms has a strategic advantage, considering that P and F are already such similar shapes that they draw a very unique, memorable logo design when combined.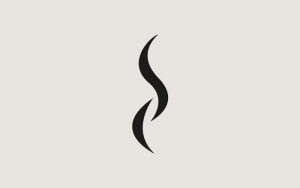 Upon first glance, Cannaseur's logo design looks like a stream of smoke. The design is subtle, and only obvious if you already know they're a marijuana company. But what you probably didn't notice is that the design is also a C and a S; it's a carefully hidden feature that makes this a very powerful logo!
Cannabis logos that emphasize shapes and symmetry
The science behind Phylos Bioscience is pretty amazing. In a lot of ways, it reminds us of the logo design they chose; It's earthy, balanced, a little complex, and very intertwined.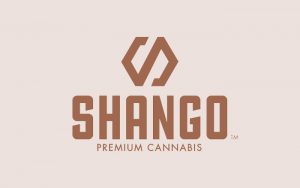 Shango Cannabis knows that good marketing is the secret to growing & expanding a marijuana dispensary chain. With locations in Washington, Oregon, and Nevada, their branding places a geometric emphasis on the hexagon as a whole, while their logo design is a sideways S that fits into the same shape.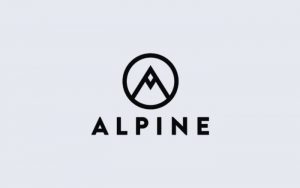 The best logos can be drawn by memory, and the California vape company Alpine's logo is a great example. It uses three basic shapes to create the very literal geometric shape of a mountain. Relevant, easy, and attractive!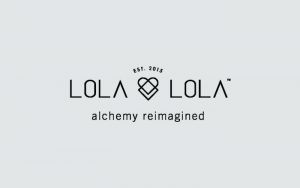 Let's face it- the unique typeface and simple icon in Lola Lola's logo design compliment each other perfectly. These designs, plus the bold contrast between their black & white logo and colorful backgrounds, makes this San Francisco brand hard to forget.
Designs that are conceptually driven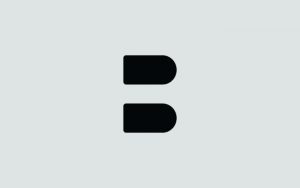 Focusing on the negative space in Burnwell's first letter, this Washington cannabis farm's logo acts as a contrast to its surroundings. But no matter whether it's layered over colors or over lifestyle images, the logo itself is always white or black. Therefore, it is always creating negative space against its backdrop.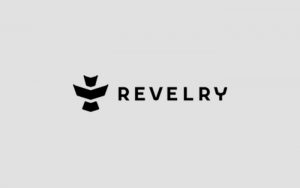 Revelry Supply creates odor-absorbing, water-resistant bags perfect for the outdoor lover, and it's got a cannabis lifestyle logo to match. Although we can't tell exactly what inspired the design, it definitely reminds us of birds, native american art, and nature- there aren't any others like it in the industry! There's no denying that Ionic's logo is cool. The dual circles are such a simple concept by themselves, but are unforgettable after seeing how they're used in conjunction with the wordmark and on their vape products.
Logos With Animal Imagery
Designs inspired by nature's living beings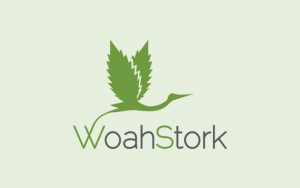 Animal inspired designs can say a lot about your brand, as these marijuana logos show. WoahStork, the online marketplace for cannabis businesses, opted for a stork. Why? Because it's culturally associated with the idea of a delivery! Plus, the marijuana leaf wings adds a small touch of the industry.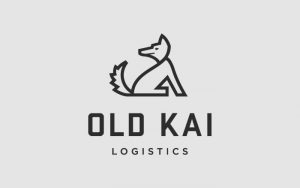 Old Kai is a logistics company, so a dog makes sense for their logo. It's loyal, it's dependable, and it's a guardian! But what I enjoy most about this design is the ambiguity in the head art. Depending on how you look at it, the dog could be looking backward or it could be howling to the wind. Little details like these do a great job keeping a logo top-of-mind for customers!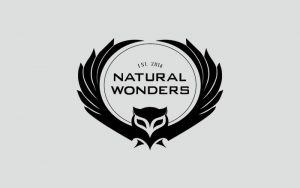 Natural Wonders, a cannabis retailer in Portland, OR, uses an owl for their logo. The abstract design plays with white and black, often inverting them to change the boundaries of the white space. The result is a powerful dispensary logo design that can easily bring new, curious customers into the shop.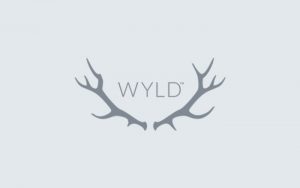 A true Northwest brand, Wyld cannabis edibles feature deer antlers in the logo and wild berries throughout the branding. It's an instant connection with the local target market that does a great job creating an emotional response!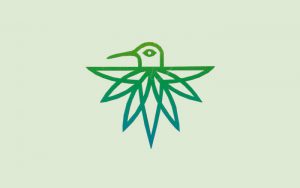 The branding agency behind the Harmony Extracts logo design describes the hummingbird as "nature's little extractor," making it a perfect identity for the Denver, CO concentrate company. The combination of a marijuana leaf, geometric shapes, and a color gradient make for a very surprising, eye-catching design!
Brands driven by broad concepts, periods, and motifs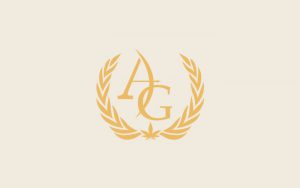 Themes are not too common in cannabis branding, which makes Apollo Grown's greek themed logo design feel very different from the rest! The leafy branches around the A.G. emphasizes the greek inspiration, while a marijuana leaf sits as a less-noticeable- but still central- part of the design. Meanwhile, the arrow tied into the A makes for another clever, but very subtle, feature.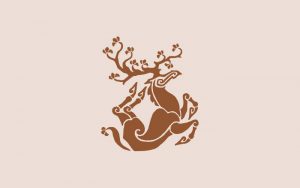 A brand based on indigenous cultures, Altai uses a unique wordmark and reindeer graphic for their cannabis logo design- sometimes separate, sometimes together. Both look like ancient drawings and are so interesting, it's hard to look away!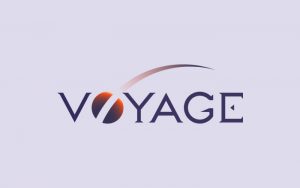 Voyage's slogan is "let's voyage", and this oil & vape company's logo design shows it. Illustrating the idea of a swift movement and the infinite trail that it leaves behind you, this logo was designed to look and feel like space travel.