The Importance of Great Cannabis Packaging Design
The cannabis industry has come a long way in the last few years. These days, simply handing off your product in an unmarked baggie just doesn't cut it. Legal reasons aside, your packaging needs to do a lot more marketing legwork than that!

With so many products from so many different producers on dispensary shelves, the way you package your products can be a game changer. And with the majority of consumers buying products right off the shelf, without doing any research first, your chances of making the sale really does come down to one major factor…
Cannabis Packaging Design
So, what is "good" packaging?
YOUR PACKAGING SHOULD:
1. Convey All Necessary Info
All cannabis packaging needs to have specific, regulated information present before it goes to market. This includes:
* Your brand's name
* Net weight
* The type of product
* Batch info (THC/CBD content, batch numbers, etc.)
* Warning symbols
Every state has slightly different requirements for this information, so if you're not sure about yours, find it on our list of state-by-state marijuana regulation agencies here.
In many cases, the difference between "just ok" packaging and "great" packaging is how you present the info. Even with all the regulated data, you can still have a well-designed container!
(P.S. If you hire a designer or creative team to create packaging for you, make sure they are aware of the compliancy laws! We create compliant package designs by working directly with each of these agencies, but many firms will require you to give that info.)
2. Stand Out on the Shelf
No matter which type of cannabis product your brand sells, you want it to stand out above your competitors.
You can make this happen a few ways, but the best choice for you will really depend on what you want people to think about your product and brand.
Think about Pringles. What about their brand makes them stand out?
If you said, "Their strange, tube-shaped container," you're absolutely right! No one else on the market was doing that, and so their chips easily stood out above their competitors on the shelves.
64% of consumers will buy a product based on its packaging design, which means that, like Pringles, you may need to think past the product itself.
Things to keep in mind:
How do you want this container displayed?

Will it sit on a shelf, or hang on a hook?

If it's oddly shaped, will it be a pain for bud tenders to stock? If so, they may not want to push your product to avoid dealing with restocking it.
3. Be Functional
Have you ever found yourself with a product that was difficult to open- or, once opened, you couldn't figure out how to put the darn thing back together?
Did you ever buy that same product again?
If the answer is no, you're not alone. 62% of consumers are unlikely to buy from a company again if its packaging is hard to manage. So it's extremely important that your packaging is easy to open and, if it's resealable, easy to close again.
That's not to say you can't have cool, extra parts to your packaging, but you should make sure they serve a purpose!
Select Strains is a great example of this. Their cartridges have an extra flap on the front with info about their brand and the particular strain. All without ruining the functionality of their simple box design!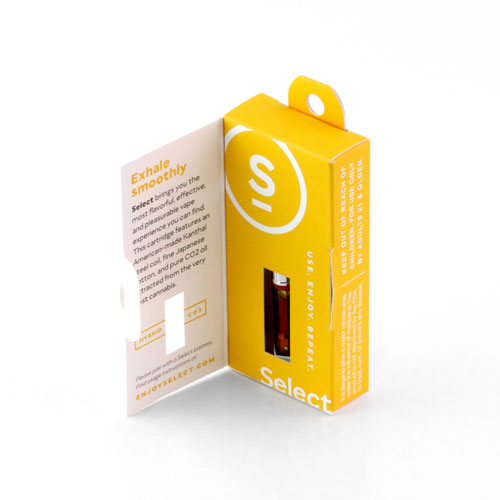 4. Provide a Customer Experience
So you've sold a customer on your product with your awesome packaging. Now they're at home, unpacking their edible/concentrate/flower/etc.
What's next? Is their unboxing of your product living up to the experience you want them to have?
Take Wyld for example. Their edibles come in a uniquely shaped box, which not only looks great in the store but also seems like it would be fun to open.
Through their packaging, they're providing an experience that makes their brand even more memorable.
Think about the packaging you either currently or would like to have. Is there something about it that creates a unique, interactive experience for your customers? If not, how could you go about expanding their experience past choosing your product in the store?
5. Reflect Your Brand
One of the most important things your packaging should do is reflect your brand's identity.
This means it needs to follow the same color scheme, use the same typography, and give off the same vibe that you try to market in every avenue. Consistency is key when it comes to your brand, and your packaging should reflect that!
Through consistency, you invite consumers to be a part of your community. They will become comfortable seeking out your products, because your products will be easy to recognize as yours. They may even start referring their friends to your brand!
The Conclusion
More often than not, one of the first interactions a consumer has with your brand is seeing it on a shelf at the store. 70% of consumers say that the way a company's products are packaged can affect their idea of the business as a whole, so you want to make a good first impression!
With solid packaging, you and your customers can both rest easy knowing that they're walking out of the store with a good product that they'll enjoy and, ideally, buy again in the future.
Interested in hearing more about packaging design? Read our other Package Design articles, check out the packaging our team has designed, or contact us to talk about making your own packaging more unique!